Ulster Bank refunds IT-affected customers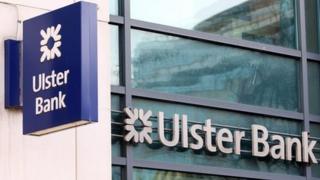 Ulster Bank has said all customers whose accounts were debited twice have had the money repaid.
The problems with its computer systems began on Easter Monday and lasted for about 24 hours.
Some customers reported that cash machine withdrawals were debited twice from their accounts.
In 2012, a serious computer failure at the bank's parent company, RBS, caused widespread chaos for many customers who were unable to access their funds.
Ulster Bank said all money had been restored to affected customers' accounts on Thursday night.
The bank had promised that no customers would be "left out of pocket" as a result and apologised to those who had been affected.
Ulster Bank is the largest bank in Northern Ireland and the third biggest in the Republic of Ireland.
It reported losses of £1bn in 2012, and £1.5bn last year.
Have you been charged twice by Ulster Bank? If you are willing to speak to The BBC you can email your experiences and views to haveyoursay@bbc.co.uk, using the subject title 'Ulster Bank'