Skills shortages a concern in NI construction sector, says RICS survey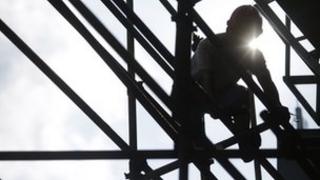 Skills shortages are a concern in the NI construction sector as its recovery continues, according to a survey.
The Royal Institution for Chartered Surveyors (RICS) survey said a third of its NI respondents had reported difficulties across a range of construction disciplines.
RICS said it also had concerns that fewer students were enrolling on construction-related courses.
Since 2007, the industry has shrunk by a third, with the loss of 30,000 jobs.
The construction sector in Northern Ireland has been the hardest hit part of the economy.
RICS Northern Ireland construction spokesman, Jim Sammon, said: "The positive story is that the recovery in the construction industry is continuing, with the latest RICS survey showing that the workloads of chartered surveyors grew for a third quarter, and at an increased rate of growth.
'Low levels'
"This is from low levels of activity after such a significant downturn, but this latest survey gives cause for optimism that the recovery is taking hold.
"The other side of the story is that with activity increasing, evidence of skills shortages is emerging.
"We are also getting indications from local third-level education establishments that enrolment levels for construction-related courses are at low levels."
Mr Sammon said Northern Ireland had an infrastructure deficit which would need to be dealt with in the years ahead.
"We need the necessary skills available to do so," he said
"Our message is that students shouldn't be put off studying chartered surveying and other construction disciplines because of challenges the sector has had in the past number of years.
"We hear from the local universities that employers are currently having difficulty recruiting because of the increasing demand and the lack of availability of students with the necessary skills. So there are real opportunities for students."