Orange Order and Coiste na nIarchimí back Queen's course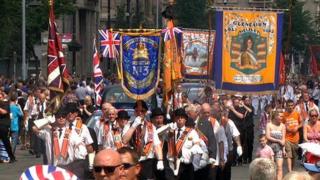 The Orange Order and a republican ex-prisoners' organisation have lent their support to a new course at Queen's University (QUB) that examines the use of public space to express identity.
More than 3,000 people have signed up so far for the free online course.
It has been developed by Dr Dominic Bryan, from the Belfast university's Institute of Irish Studies.
He said he hoped that it would "have a positive impact at home and around the world".
"This is a hugely topical subject in many societies around the world. Here in Northern Ireland we only have to look at recent issues surroundings flags, parades and memorials," Dr Bryan said.
"This free online programme, which goes live on 28 April and is accessible to anyone with internet access, examines issues around the use of public space to express identity.
"Ethno-political conflicts across the globe tend to differ in detail, but share common structural and political issues.
"Fundamental to the conflicts is the ability for groups of people to have access to representation in public space."
Contributors to the QUB course include the grand chaplain of the Orange Order, the Reverend Mervyn Gibson, and Séanna Walsh, a legacy officer with Coiste na nIarchimí (Committee for Republican Ex-prisoners).
Mr Gibson has been a prominent Orange Order spokesman during recent parade disputes and last year he was part of the DUP's delegation at the Haass talks on flags, parades and the legacy of the Troubles.
Mr Walsh, a former republican prisoner, was filmed reading an IRA statement in July 2005, in which the paramilitary group said it had "formally ordered an end to the armed campaign".
Other contributors to the QUB course include Peter Osborne, who is the current chair of the Community Relations Council and former chair of the Parades Commission.