Vandals take digger and damage pitch near Newtownabbey leisure centre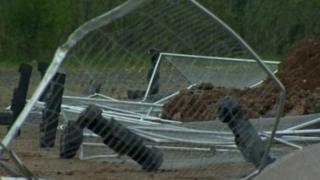 Sports grounds beside the Valley Leisure Centre in Newtownabbey have been damaged by vandals overnight.
It is thought a digger was stolen from a nearby construction site and used to tear up a football pitch, running area and to knock down goal posts.
It happened on the O'Neill Road at 21:00 BST on Monday. The alarm was raised by two people walking their dog.
The vandals also attempted to break into the construction site office.
Security fencing was also knocked down, but new pipework being installed at the site appeared to be undamaged.
PUP representative Ken Wilkinson described what had happened as a "blatant act of wanton vandalism".
"I have walked around this site and what I have seen is an absolute disgrace," he said.
"Machinery has been destroyed, football pitches which both sections of the community use and anyone that carried this out should be ashamed of themselves."
He said the police response had been poor.
"This was reported to them last night and I'm going to ask questions of the PSNI, why they didn't come on site," he said.
"I have spoken to the contractor and he told me the PSNI haven't been in touch with him.
"You can see the damage yourself, we're not talking about hundreds of pounds, we're talking about maybe running into tens of thousands of pounds here, a football pitch, goal posts, water mains, but another very important issue is that this machinery could have tore down a power cable which could have caused death."
Police have appealed for information.