Seamus Heaney: Paul Simon takes part in Dublin tribute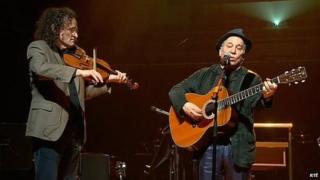 The US singer songwriter Paul Simon has paid tribute to his friend Seamus Heaney, as he unveiled a new artwork in Dublin in memory of the late poet.
The musician spoke of his love and admiration for Heaney as he unveiled a tapestry in Dublin airport.
It was paid for by a group of Heaney's fans, including Mr Simon and U2's Bono.
The US singer is also taking to the stage in Dublin's National Concert Hall at an event honouring the County Londonderry poet, who died last year.
Mr Simon told the Irish state broadcaster, RTÉ: "I'm a great admirer of Seamus' poetry and I loved him dearly as a friend."
The musician said he was "very proud and pleased to be able to participate" in the Dublin tributes to the Nobel Laureate.
Other guest speakers at the memorial concert include Irish President Michael D Higgins, poet Michael Longley and singer songwriters Paul Brady and Lisa Hannigan.
'Wisdom'
The airport tapestry was designed by Czech artist Peter Sís and features an excerpt from Heaney's poem Lightenings VIII.
Mr Simon said: "How wonderful that the memory of Seamus Heaney will be celebrated with a work of art.
"Travellers would do well to carry Seamus Heaney's words with them as they journey around the globe. He was truly a poet for all the world."
The artwork will be seen by an estimated 10m passengers each year, as they pass through Terminal Two.
As he unveiled the piece, Mr Simon added: "Seamus' poetry, although it springs from the Irish well, has a beauty and a wisdom that nourishes anyone who reads it."
The tapestry was commissioned by Bill Shipsey, the founder of Art for Amnesty, an art engagement arm of Amnesty International.
Speaking before the unveiling, Mr Shipsey said: "Seamus was the unofficial poet laureate of the entire Amnesty International global movement.
"He was a great friend and supporter and shows us by his life, and with his writing, what art in the light of conscience was all about."
'Memento'
The sold-out event in the National Concert Hall has been jointly organised by Dublin City Council and Poetry Ireland, as part of the Dublin: One City, One Book festival.
The piper Liam O'Flynn, who worked with the Nobel Laureate over the years, is also among the guests, and members of the Heaney family are expected to attend.
The organisers said they hoped the event would be a "memento of Seamus' wonderful life and what he meant to people".
Mr Heaney died in hospital in Dublin last August after a short illness. He was 74.
His funeral was held in Donnybrook, south Dublin, but he was buried near his childhood home in Bellaghy in Northern Ireland.
He published his first book of poetry in 1966 and was awarded the Nobel Prize for Literature in 1995.