David McClarty: Funeral for 'talented raconteur'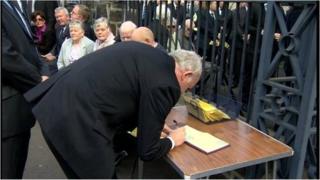 About 1,000 people have attended the funeral of independent unionist David McClarty who died on Friday.
The 63-year-old assembly member from Coleraine, County Londonderry, had been suffering from cancer for some time.
His funeral service was held at Killowen Church in the town followed by burial in Portstewart cemetery.
Mourners included Sinn Féin Deputy First Minister Martin McGuinness, former Ulster Unionist leader Lord Empey and current leader Mike Nesbitt.
East Londonderry MP Gregory Campbell of the Democratic Unionist Party and TUV leader Jim Allister also attended.
Rev Donard Collins, who led the funeral service, paid tribute to Mr McClarty.
He said: "He was talented, he was a raconteur, he made people laugh on stage, he sang in the parish choir for all of his life.
"He kept them sane in Stormont, he was company with Her Majesty the Queen, and yet he was open to deal with anyone.
"He was most happy with people who needed help and he found fulfilment with that."
Long-serving MLA
Mr McClarty, who was an East Londonderry MLA, left the Ulster Unionist Party (UUP) in 2011 after being deselected as a candidate for that year's assembly election.
Before leaving the party, he was one of the UUP's longest serving MLAs.
He was first elected to Coleraine Council in 1989 and the assembly in 1998.
He was one of the assembly's deputy speakers from 2007 to 2011.