Giro d'Italia: Armagh turns pink to host cycle race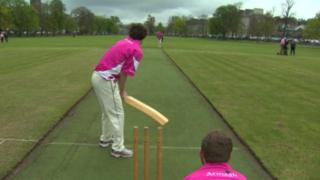 Players at Armagh Cricket Club are breaking with a 150-year-old tradition and wearing pink for the first time next month.
The move is one of a series of steps being taken in the city to mark staging part of the Giro d'Italia cycle race.
Pink is the traditional colour of the event as it is the colour of the jersey worn by the race leader.
The cricketers will wear pink rather than traditional white shirts on Saturday 10 May, in their home game on The Mall playing fields against Saintfield.
The match take place on the day before the Giro comes to Armagh.
Norman Graham, president of Armagh Cricket Club, said: "The cricket union doesn't normally allow different colours to be worn but we got permission from the Northern Cricket Union and we organised it.
"We're now being called the 'pinkies' but only just for the day. After the tenth of May, we'll go back to normal again."
Armagh is hoping to outdo the rest of Northern Ireland when the Giro arrives in the city by presenting a burst of natural pink colour.
While other towns and cities are going pink using paint, parts of County Armagh will naturally turn pink when the apple blossom comes out in the orchard county.
The only question is whether it will arrive in time for the Giro, when the Armagh stage of the race takes place on 11 May?
Apple farmer Philip Troughton believes the blossom will be ready.
He said: "We're quite far on for this time of the year and the apple buds, which is where the blossom is going to come from, are just starting to come into pink.
"If things keep going apace they may be turning slightly white. The blossom goes through a period where it's rich pink and then, as it develops and sets, it turns white and falls off.
"But I would be pretty confident at this moment in time that we'll have a sea of pink for the riders."
Armagh Council is planning a series of community events over the Giro weekend, including concerts and a pink firework display on Saturday 10 May.
Sara McGeary, tourism development officer, said: "There will be music across the city during the day and in the evening we're going to have a concert on The Mall.
"We'll have a range of artists taking part including Northern Ireland Opera, a pink tribute act and Flash Harry singing 'I want to ride my bicycle'."
A local blacksmith, John O'Callaghan, has made a giant Giro bike from scrap metal and it will soon go on display in the centre of the city.