Easter Rising commemorations held in Northern Ireland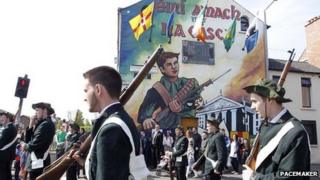 A number of events have been held in Northern Ireland to commemorate the anniversary of the Easter Rising.
The main republican parade in Belfast, made its way from Beechmount Avenue in the west of the city to Milltown cemetery.
Republicans honoured the dead of previous conflicts, but the murder of former dissident leader Tommy Crossan on Friday, also featured in Sinn Féin MEP, Martina Anderson's address.
He was shot dead in west Belfast.
"There is another minority in our community who are attempting to derail any progress in the peace and political processes" Ms Anderson told the crowd.
"One of these small groups took the life of Thomas Crossan in this city. The only thing they have succeeded in doing is leaving a family bereaved. The republican community does not want them."
The annual Easter commemorations are a key event in the Republican calendar.
Hundreds attended the event in west Belfast - a similar number gathered in Londonderry.
Sinn Féin's vice president Mary Lou McDonald called for the Haass proposals to be supported and for social and economic inequality to be addressed.
During the Irish President's state visit to the UK two weeks ago, the Queen said "her family and her government" would stand alongside Ireland in marking the centenary of the Easter Rising in two years' time.
The military ceremony in Dublin was led by the Irish president Michael D Higgins, along with Taoiseach Enda Kenny and Justice minister Alan Shatter.
Thousands attended, while around 170 members of the army, navy and reserve forces took part in the ceremony.