Eimear Clarke death investigation: Man released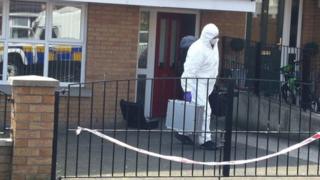 A 36-year-old man who was arrested in connection with the discovery of a woman's body in west Belfast has been released unconditionally.
Forensic officers were called after Eimear Clarke's body was discovered in a house in the Derryveagh Close area on Sunday.
A post mortem examination will be carried out to determine how the 30-year-old woman died.
Police have said they are treating her death as suspicious.
A neighbour of Ms Clarke said the whole community had been left in shock by her death.
"She kept herself to herself," she said.
"The whole street feels eerie and numb and everybody is just devastated.
"Nobody can believe that something like this can go on on your own doorstep, you don't expect it to happen on your own doorstep. There's just complete and utter shock."
The neighbour described the mother-of-three as a "lovely girl".
"She knew everyone and everyone knew her, she was from the area, she always said hello to everybody and would have sat and had a yarn with them. She had her three kids and was happy, a happy go lucky person."