Tommy Crossan murder: 26-year-old man released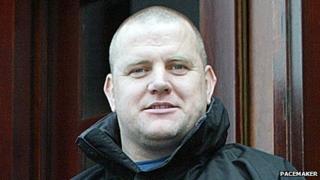 A 26-year-old man arrested over the murder of former dissident republican leader Tommy Crossan has been released without charge.
Mr Crossan, 43, was shot dead while sitting in a hut at a fuel business off Springfield Road in west Belfast.
The killing of the former senior Continuity IRA member was condemned by the first and deputy first ministers.
Mr Crossan, a married father of six, was killed around 16:45 BST on Friday, in view of surrounding houses.
Initial reports suggested he had been approached while walking to his car and bundled into a yard before being shot.
At a press briefing on Saturday, police said they now believed the gunmen fired through the window of the hut, which was being used as an office.
The officer leading the murder investigation, Det Supt Jonathan Roberts, said Mr Crossan had been shot a number of times at close range in his upper body area as he sat in the office of the business of a family friend within the Peter Pan industrial complex.
"The murder of Mr Crossan on the Springfield Road yesterday was a brutal and ruthless attack which has no place in society," he said.
"Mr Crossan was known to police, but no matter what his lifestyle was, absolutely nothing justifies this barbaric action against him.
'Open mind'
"Police are working on a number of lines of inquiry.
"One line of inquiry centres on individuals or groups who would associate themselves with dissident groupings, however we are keeping an open mind."
A red-coloured BMW, believed to be linked to the murder, was found burned out a short time later in the Beechmount Grove area of the city.
Police appealed for anyone with information to contact them.
"Those responsible for this ruthless murder will only be brought before the courts and put behind bars if people with information work with police," Det Supt Roberts added.
It is believed Mr Crossan had been expelled from the Continuity IRA (CIRA) some years ago after falling out with other dissidents.
First Minister Peter Robinson warned that murder "can never be justified in any circumstances" and urged those with information to come forward.
Deputy First Minister Martin McGuinness said the killing would be opposed and rejected by "all right-thinking people across the community".
'Shameful situation'
The Mayor of Belfast, Sinn Féin's Máirtín Ó Muilleoir, said people in Northern Ireland had hoped the "days of death and murder on our streets" were in the past.
"Especially at Eastertide when the city is getting ready for Easter holidays and also the Easter anniversary commemorations. And also on the anniversary of course of the Good Friday agreement - on the 16th anniversary," he said.
"It's a shameful situation that thugs and criminals can bring death to our streets."
For many year the CIRA was a very small and largely inactive group. It originated in 1986 following a split in the IRA over opposition to republican candidates taking seats in the Irish Republic's parliament.
It announced its reappearance in 1996 when the group destroyed a hotel in County Fermanagh with a bomb thought to contain more than 1,200lbs of explosives.
It is believed most of its members are concentrated in Counties Fermanagh and Armagh.
It claimed responsibility for the murder of police officer Stephen Carroll in March 2009.
Recently the Continuity IRA is believed to have split between those on the traditional wing - mainly members in the Irish Republic - and a younger faction based mainly in Northern Ireland.