Car destroyed in Carrickfergus petrol bomb attack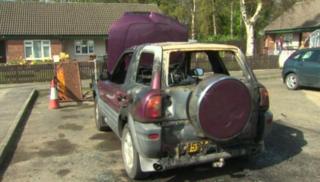 A 4x4 vehicle has been destroyed in a petrol bomb attack in County Antrim.
It happened at Elizabeth Avenue in Carrickfergus at about 23:15 BST on Thursday.
The car's owner, 69-year-old Hugh Neeson said: "I was in bed and I hadn't a clue until my wife came home and said, 'your jeep's on fire'."
In an appeal for information, police said they wanted to speak to anyone who saw three youths running away from the area shortly after it happened.