'Horrific' sheep attacks almost double in Northern Ireland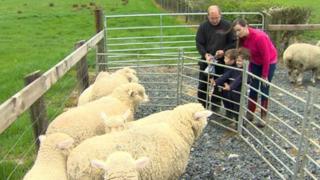 New figures show that attacks on sheep by dogs across Northern Ireland have almost doubled over the last year.
In 2012, 67 incidents of sheep worrying were reported to police. That number rose to 126 in 2013.
However, these figures are likely to only be the tip of the iceberg as most farmers do not report the attacks to the police.
Sheep worrying is when a dog chases a flock of sheep, often injuring or killing some of them.
Mark and Samantha Robinson farm Ile De France sheep just outside Portadown, County Armagh.
Their flock has been attacked three times in the last year by dogs and a number of their sheep have been killed.
"The first time it happened, our ewes were in lamb and when it came to lambing, it threw them all off," Mr Robinson said.
"Some of them lambed early and some of them lost lambs and we lost a number of ewes."
Mr Robinson said the second attack also left the flock worried, but it was the third, most recent attack, that caused the most damage.
A dog entered the Robinsons' field and started attacking the sheep. A number were killed, but one, called Lily, survived.
Scars
"The dog mauled her on the neck and tore her whole neck open," Mr Robinson said.
"We had to take her up to the house and put her on antibiotics and treat her for a long time before we could put her back out again.
"The sheep stayed at the top of the field all the time because there was a house nearby and they felt safer and it took a long period of time before they would start to wander around the field again.
"Lily has come round, but unfortunately because of the scars we will never be able to show this sheep."
Mr Robinson said he was not surprised the number of incidents had increased.
"Once dogs get a taste for it, it's very hard to get them to stop doing it," he said.
Mark's wife Samantha said she was angry when she discovered the flock had been attacked again.
"It's devastating. It's soul-destroying to go out and see your sheep maimed and upset and in the ditch," she said.
"It's the fear of wondering how many are dead, lost or maimed and then it's the financial worry after that.
"To see necks ripped out, ears off, stomach open and chests ripped off is very distressing.
"It's sad to see something that you have worked very hard to get to show quality and then to see it killed."
Responsible
The number of attacks is likely to be a lot higher as the BBC understands that there were 40 attacks in the Armagh area alone in 2013 and 17 already in 2014.
One farmer in Tandragee had almost 40 sheep killed last week by a single dog that got into his field.
The figures from the police were obtained via a freedom of information request for the Take the Lead campaign that was organised by the National Sheep Association and the Farmers Guardian.
Edward Adamson, the Northern Ireland manager of the National Sheep Association, said dog owners had to be more responsible.
Mr Adamson said when sheep worrying occurs there can be "horrific results".
"Some dogs, when they are loose, they are just out for a race and run round, but once they go into a field of sheep the sheep get spooked and they start to run.
"The dog being a dog will start to chase and they can chase them into corners and just pile in and tear lumps out of them".
Mr Adamson encouraged farmers to report incidents to the police.
He warned dog owners that farmers had the right to shoot any dog caught worrying their sheep and that owners could also be liable to pay for damages.
The BBC asked the Department of Agriculture and Agriculture Minister Michelle O'Neill to respond to the growing number of attacks on sheep, but a spokesperson said it was not their responsibility.
A spokesperson for the PSNI said: "The worrying of livestock falls under the Dogs (NI) Order 1983 and is enforced by the local council.
"Police would always urge dog owners to ensure their animals are under control to prevent incidents of sheep worrying."