Sinn Féin's Paul Maskey says sorry to Bishop John McAreavey over abortion letter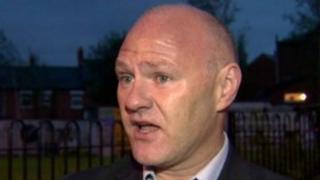 A Sinn Féin MP has apologised to the Bishop of Dromore for a party letter that seriously misrepresented his position on abortion.
Paul Maskey said a letter written by local party members and distributed in west Belfast misquoted John McAreavey.
In a statement, Bishop McAreavey said he was "appalled" by the "untrue and most damaging assertion".
He said two representatives claimed he shared their position on the "termination" of unborn human life,
"When I became aware of party political literature which was jointly issued in the names of Sue Ramsey MLA and Councillor Matt Garrett of Sinn Féin, which stated that I 'share' their position on the 'termination' of unborn human life, I was appalled," he said.
"I cannot emphasise enough the seriousness of this action which has misused my good name and impugned the teaching reputation of my ministry as bishop."
The bishop said political representatives must answer for their own position on abortion and they should not try to misrepresent the pro-life position of the Catholic Church.
He thanked Martin McGuinness, the deputy first minister and Mr Maskey MP for their support and accepted the party's apology.
"This inaccurate publication does not represent the moral teaching of the Church nor does it add credibility to the political process. Because of the importance that the Catholic Church accords to the protection of human life, our position cannot be politically misrepresented," he said.
Bishop McAreavey said in the context of the abortion act which was debated and passed in the Dáil last year, the Catholic Church's pro-life message was vigorously promoted.
"How any political party could be mistaken about the pro-life position of the Church defies belief," he said.
In his statement, Mr Maskey said: "Sinn Féin accepts that references in the letter to Bishop McAreavey were inaccurate.
"These letters should have not gone out.
"I apologise unreservedly to the bishop for any hurt and distress caused.
"I can assure the bishop that all reference to him on this issue has now been removed from all print and electronic literature. Sinn Féin has also removed the offending comments from Facebook."