Victims' Commissioner Kathryn Stone leaving job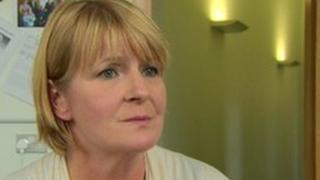 NI Victims' Commissioner Kathryn Stone is leaving her job at the end of June to take up a post in England.
Ms Stone has been commissioner since September 2012. She was formerly chief executive of Voice UK, a national learning disability charity.
She was awarded an OBE in 2007 for her services to people with learning disabilities.
The first and deputy first ministers thanked her for her "service to all victims".
"She has been tireless in her efforts to ensure people, families and groups were afforded a quality service, in acknowledging the legacy of the past and in building a better future," they said.
"Since Kathryn took up the post in September 2012 there have been considerable developments in the sector particularly the recent independent assessment of the Victims and Survivors Service.
"We remain committed to ensuring that the advice and recommendations brought to us by Kathryn are implemented."
'Made real difference'
Ms Stone said she would be leaving Northern Ireland with a heavy heart, but knowing that she had made a real difference to victims and survivors.
"I have been very humbled and very privileged to work with some uniquely special people," she said.
She said she was very pleased with the support that she had received from everyone, including the first and deputy first ministers and officials.
At times, the job had been difficult, she admitted.
"There is absolutely no doubt that the job that I have and have been privileged to have and will continue to do to the very best of my ability until my very last day in office, is frustrating and is difficult and is challenging, but nothing is worth doing without challenge and without overcoming those frustrations," she said.
"We can deal with the past as well as building for the future - we have to do that to give dignity to victims and survivors.
"I could not have done the job I've done and made the difference that I hope I've made, if I hadn't spent time and listened to victims and survivors and been a voice for them, a powerful passionate advocate for them."
Sandra Peake, chief executive of the WAVE Trauma Centre, which is one of Northern Ireland's largest victims' groups, said Ms Stone would be missed.
"Kathryn is a strong and committed advocate for victims and her calm but authoritative voice on their behalf will be missed," she said.
"Whoever takes over as victims' commissioner must be prepared to build on the good work that Kathryn has done and drive the change that victims need and deserve."
It has not yet been revealed what her new job in England is.
In October 2013, Ms Stone said she has "no hesitation at all in condemning all acts of violence" amid controversy over her stance on paramilitaries.
It followed an interview she did with the News Letter in which she refused to be drawn on whether she believed the IRA and UVF were terrorists.