Novosco: IT firm creates 50 new jobs in Belfast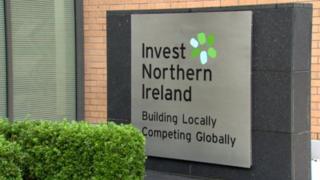 A Belfast IT firm is creating 50 "high quality" jobs in the city, including software and engineering posts.
Novosco is based in the Northern Ireland Science Park at Queens Island. It provides IT infrastructure to clients across the UK and Ireland.
The company, which was established in 1994, currently employs 90 people, 70 of whom work in Belfast. The remainder are employed in Dublin and Birmingham.
Invest NI has offered the firm more than £624,000 to support the new jobs.
The Invest NI funding, which will also support staff training programmes, is part of the IT's firm's overall £4.1m investment.
'New opportunities'
Novosco's managing director, Patrick McAliskey, said: "As we continue to grow our business with large organisations in GB, the Republic of Ireland and in Northern Ireland, we will require additional skills at our Belfast headquarters to help fulfil these contracts, including service desk engineers, implementation engineers, software consultants and network engineers.
"This will enable us to further expand our established business areas, including providing infrastructure and network services, in addition to growing new opportunities in areas like software development."
"We've benefitted from Invest NI support over a number of years to help us build our product portfolio and target export markets. As a result we have been able to accelerate our growth and expand our sales outside Northern Ireland."
'Rapidly expanding'
Enterprise, Trade and Investment Minister Arlene Foster said the new jobs would contribute almost £2m a year to the economy.
"Novosco is part of the thriving and rapidly expanding IT sector in Northern Ireland and is an excellent example of a fast growing locally owned company that has the potential to become a significant player," she said.
"I commend the company on the success that it has achieved to date, despite the challenges faced during the recent economic downturn.
"The new high level jobs are exactly what Northern Ireland needs to help rebalance the economy towards higher added value private sector activity."
Novosco, which is celebrating 20 years in business this year, could have a claim for describing itself as the best company to work for in Northern Ireland.
It was the highest placed Northern Ireland firm in the latest Sunday Times 100 Best Small Companies to Work For in the UK.
Invest NI's contribution to the investment is part funded by the European Regional Development Fund