FitzPatrick made Anglo 'Seanie's bank'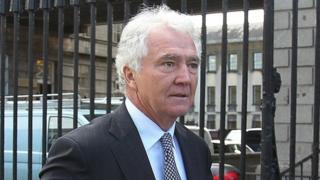 Sean FitzPatrick was the public face of Anglo.
Debonair, smooth and full of confidence, his star rose with the bank.
He became general manager in 1980, when it was a subsidiary of another Dublin finance firm and employed just four people.
He was later appointed chief executive of the parent company and transformed it into Anglo.
Mr FitzPatrick spent more than 20 years growing the bank into an aggressive, property-focused lender, a model envied and copied by other Irish banks with disastrous results for the country.
In 2005 he became the chairman, though he maintained a hands-on role. It was still very much 'Seanie's bank'.
He became an admired and influential figure, at one stage acting as an unofficial advisor to Prime Minister Brian Cowen.
But in 2008, he was forced to resign when it emerged he had concealed the true size of his personal borrowings from the bank.
Since then, it has been a downward path of police interviews, courtrooms and bankruptcy.
Wednesday's verdict, clearing him of involvement in a share support scheme, is a rare recent moment of triumph for a fallen corporate Titan.