Damien Murray, former solicitor, gets suspended sentence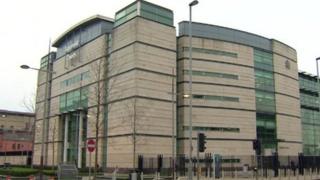 A former Belfast solicitor who stole nearly £1m from clients to keep his family safe from threatened loyalist murder has been given a suspended prison sentence.
Damien Murray, 51, from Upper Dunmurry Lane, took the money between June 1999 to December 2003.
The judge described his offence as a "serious breach of trust".
He said the delay in bringing the case to court had impacted on the accused's mental state.
Mr Justice Weir said that in the light of Murray's current psychological and mental health state, he did not believe that he would receive the appropriate medical treatment if he sent him to Maghaberry Prison.
He told Murray that as result of his crimes, the public would "lose confidence'' in solicitors who were officers of the court and entrusted to handle honestly clients money.
The judge also said there had been an "inexplicable delay'' in bringing to court, what he described as "a most unusual case to say the least'', which also had impacted on Murray's mental well-being.
"You have lived the life of a virtual recluse,'' Mr Justice Weir told Murray, saying he had shunned friends, colleagues, and sporting and social events since the allegations first came to light in 2000.
"You have spent the last 14 years of your life living under a cloud.''
Belfast Crown Court had heard that since the £811,080 thefts, from June 1999 to December 2003, Murray was suffering from extensive mental problems including post-traumatic stress disorder after loyalist paramilitaries threatened to shoot him and his family.
A prosecuting lawyer said it transpired that Murray was in reality "taking money from Peter to pay Paul," after a Law Society investigation, sparked by a former client, revealed Murray had been "making a substantial amount of unlawful cheque payments from his client account to a number of unidentified third parties over a substantial period of time".
It emerged Murray borrowed £27,500 from an unnamed source and the debt was subsequently sold to a man around July 2000 who indicated that he now owed the money to the UVF.
The lawyer added that the Crown accepted Murray was under pressure from "sinister elements", adding Murray had always made the case that he did not benefit financially from the money that he stole from clients, which he then passed to third parties he believed were loyalist paramilitaries.
The court also heard that one client, named only in court as "Mr S'', stood to lose £170,000 with no prospect of ever recovering the money.
"He has said, despite losing this money, that he would have assisted you if you had approached with the problem," the judge told Murray.
The judge said Murray had told no-one about his financial problems or the threats from the UVF and said he could have approached the Law Society, the police or other solicitors for help.
A medical report into Murray's ongoing mental health said it would take a "further two years for his recovery'' following the conclusion of the court case.
The judge accepted that Murray had not personally benefitted from his crimes, but said that as it was a case of a "serious breach of trust between a solicitor and his clients'', he was taking the starting point for sentence at six years.
However, Mr Justice Weir said: "I am not satisfied about the quality of the treatment required for you is available within the prison system."
The judge said that in the light of his guilty plea, the length of time in bringing the case to court, his ongoing psychological problems and the stress Murray and his family had been living under for a "considerable period of time'', he had decided that the appropriate sentence was one of three years in prison suspended for three years.