Belfast Blitz victims commemorated at NI War Memorial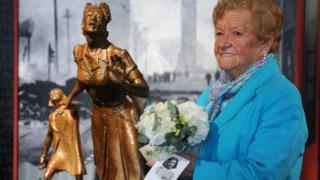 A ceremony has been held in Belfast to mark the anniversary of the Blitz in the city during World War Two.
The Nazi air raids on Belfast in 1941 killed more than 1,000 people.
Following the Blitz, there was a mass exodus from the city, with 5,000 people going to Dublin.
Those who lost their lives were commemorated at a ceremony at the NI War Memorial in Talbot Street on Tuesday.
Three sisters who have been living in Dublin since the Blitz returned to lay flowers at the memorial.
The Henry sisters lost their sister, Suzy, in the attacks on 15 April 1941.
They were also joined by members of the family living in Belfast.
Half of Belfast's housing stock was destroyed in the raids.
The city was was not prepared for the air attacks, with insufficient anti-aircraft guns and shelters.