UDA murder victim Teresa Clinton's family to sue government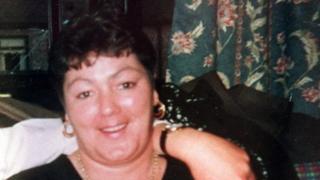 The family of a Catholic woman shot dead by loyalists 20 years ago are to sue the government for alleged collusion in her murder.
Teresa Clinton was killed in a UDA gun attack on her south Belfast home in April 1994.
Lawyers for her widower, Jim, said High Court writs have been issued against the Ministry of Defence and the PSNI.
They claim damages for misfeasance, negligence, breach of statutory duty and conspiracy to injury.
Mrs Clinton, 34, was watching television when gunmen smashed a window at her house off the lower Ormeau Road and opened fire.
Her children were in the house when she was killed.
Although Mr Clinton, a former Sinn Féin election candidate, was not present, it is believed he was the UDA gang's target.
A report into the assassination of Belfast solicitor Pat Finucane is said to back this up.
The legal action will centre on whether military intelligence knew and, if so, what was done to warn the family.
Mr Clinton has said he would consent to an amnesty for those who pulled the trigger.
But he said he wanted to know who was allegedly responsible within the British state for creating a climate that allowed the killers to operate.
His lawyer, Kevin Winters, gave further details on the lawsuit.
Mr Winters said: "The De Silva report into the killing of Pat Finucane provides official confirmation for the first time that the security forces knew Jim Clinton was targeted.
"It points to clear evidence of collusion between elements of the state and paramilitaries.
"That in turn allows us to make the necessary discovery applications through the courts."