Casement Park: Dispute over social club resolved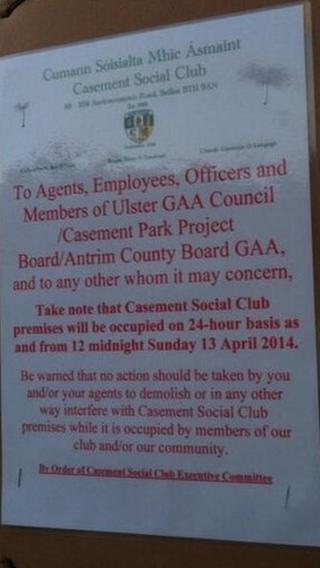 The dispute over the future of a social club in the grounds of the Gaelic Athletic Association's Casement Park stadium in Belfast has been resolved.
Members began a "sit-in" after claims the GAA Antrim County Board had told them to leave the complex which is in the process of a major redevelopment.
Former GAA president Peter Quinn agreed on Monday to meet members in a bid to resolve the dispute.
A solicitor for the members said outstanding issues had been resolved.
In a short statement, the solicitor said: "Following a meeting between the parties this afternoon, outstanding issues have been clarified and resolved to the satisfaction of all concerned."
No further details of the settlement were issued.
Club members had said they would "occupy" the building on a 24-hour basis and some began a "sit-in" protest on Sunday evening.
Earlier on Monday, club spokesman Bob Murray said a compromise had not yet been reached.
Alternative premises
"We will be occupying the building until such times as we have a legally-binding document, copper-fastened, that makes sure that this situation cannot continue," he said.
In a statement, the social club said that since 28 March when an agreement was signed, the club had heard nothing from either the Ulster GAA Council or the Casement Park project board about provision of its alternative premises.
It said their legal representative contacted the club's solicitor by fax on Friday "one hour and 15 minutes before the court adjourned for the Easter break".
It said they were "demanding that Casement Social Club vacate their premises in Casement Park" on or before Monday 14 April.
The club said: "Under no circumstances will the Casement Social Club (CSC) premises be vacated on Monday morning April 14 and the CSC premises will not be vacated until such time as suitable replacement facilities are in place and until such time as the heads of agreement have been progressed to a detailed final agreement.
"As and from midnight on Sunday 13 April 2014, the members of Casement Social Club will protect their club by occupying their premises in Casement Park on a 24-hour basis to prevent any demolition of its premises from taking place."
"All available CSC members have been requested to sign up for rotational shifts."