Jim Wells MLA says police not arresting mourner 'suspicious'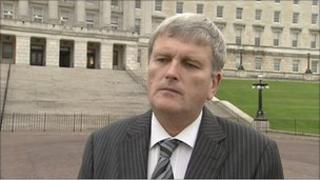 A DUP MLA has said he is suspicious about why police did not arrest a man he claims may have information about serious crime.
The man attended a funeral in Jim Wells' constituency on Thursday.
Mr Wells said it was the second time the man has attended a funeral in the Kilkeel area of County Down in a year.
"Last year, I contacted the police when he was physically in the church and asked them to arrest him," said Mr Wells.
"I was told they had no instructions to do so, which I thought was a very odd choice of words at the time," he added.
'Disgrace'
"Now that was before the whole On the Runs controversy blew up which only increases my suspicions."
On the Runs are Irish republicans who had received letters stating that they were not wanted by police for paramilitary crimes committed before the 1998 Good Friday peace agreement.
The letters came to light in February when the trial of John Downey for the 1982 IRA Hyde Park bombing was halted because he had mistakenly received one of those letters.
The loyalist victims campaigner Willie Frazer claimed he was prevented by police officers from making a "citizen's arrest".
However, the man's brother-in-law, whose wife was being buried, described Mr Frazer as a "total disgrace."
Sean Doran, a Sinn Féin councillor, said there was no warrant for the arrest of anyone who attended the funeral.
"This man has never been charged or arrested before in the north," said the councillor.
However, he said the man, who is not being named by the BBC, had served a jail sentence in the Republic of Ireland.
He said he had no knowledge of him being a so-called On the Run.
Mr Frazer asked why so many officers had been required to police the funeral.
A spokesman for the PSNI said: "Police deployed an appropriate level of resources during a large funeral in Kilkeel. An officer spoke with a member of the public who had raised a concern and the funeral passed off without incident."