Government sued over UVF Glenanne gang collusion claims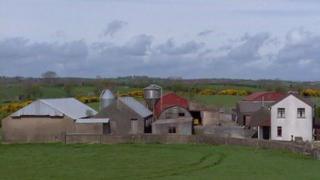 The government is facing legal action from 32 families whose relatives were killed by a loyalist gang allegedly containing members of the RUC and UDR.
They claim the authorities knew about the activities of the UVF gang based at a farm in Glenanne, south Armagh.
The gang has been accused of carrying out 120 murders on both sides of the border during the early 1970s.
High Court writs have been served in relation to a test civil case involving three deaths.
'Little alternative'
The families are to claim the police, Army and Northern Ireland Office facilitated or sanctioned the cooperation, their solicitor said.
"The failure of the PSNI to sanction an overarching, thematic Historical Enquiries Team (HET) report linking all of the atrocities together and the recent collapse of the Haass proposals on the past has left many families with little alternative but to take legal action to get justice and closure," said Kevin Winters.
Among their victims was SDLP branch secretary Denis Mullen, who was shot dead at the front door of his family home in Collegeland, County Armagh, in September 1975.
One of the test civil cases is being taken by Mr Mullen's daughter, Denise Fox, who was aged four when he was murdered.
Writs have also been served relating to the killings of Patrick Falls, a Catholic murdered during a 1974 attack on a bar in Clonoe in County Tyrone, and the death of Betty McDonald at a bar in Keady, County Armagh.
Mr Winters said the first preliminary hearing of an inquest into Ms McDonald's death would be held after Easter, when his firm would ask the coroner to consider all Glenanne cases on a linked basis.
"We are supported in this approach by the Police Ombudsman Dr Michael Maguire whose investigation into allegations of misconduct and criminality is already under way," he said.
"To that end, the pending litigation not only supports the call for a choreographed legal oversight but will also bring long-overdue compensation for the horrendous losses suffered by all families."