Anchor Bar, Portstewart: Drug dealer loses £60,000 payout claim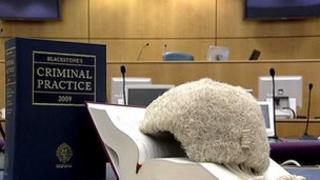 A convicted drug dealer-turned ice cream man has failed in a bid to secure a £60,000 payout.
Shane Carton, 41, from the Kilrea area, claimed he slipped and fractured his ankle on a drink-covered nightclub dance floor in County Londonderry.
He alleged that he was injured at the Anchor Bar in Portstewart, and then thrown outside by bouncers.
But a High Court judge dismissed his compensation case after finding him "evasive and untruthful".
Mr Justice Horner said: "His criminal record demonstrates his dishonesty and willingness to break the law if it is to his financial advantage."
Carton said he had gone to the Anchor Bar's upstairs nightclub with a group of friends to celebrate his birthday in August 2008.
Broken glass
He denied being drunk and claimed to have only had three or four pints of beer because he was due to get up early the next morning to sell ice cream at the Auld Lammas Fair in Ballycastle, County Antrim.
According to his account he was going to the toilet when he slipped and fell on a dance floor with spilled drink and broken glass on it.
He claimed two bouncers then lifted and carried him downstairs before throwing him outside.
The bar's owners defended the action, insisting the accident did not happen on the premises.
Medical and ambulance staff records from the time he was taken to hospital included references to him falling down steps rather than slipping.
During the hearing it emerged that Carton has convictions for drug dealing and fraud.
'Not truthful'
He confirmed having sold £50 wraps of cocaine in the past but denied ever dealing from his ice cream van.
It was also disclosed that at one stage more than £127,000 was confiscated from him under proceeds of crime legislation.
Mr Justice Horner had only to rule on whether the accident happened in the way Carton alleged.
The judge held that he had not been truthful about his drinking or drug taking at the time of the accident.
Rejecting the account of slipping on a wet dance floor, he said: "I consider it more likely that he fell descending stairs while in a state of intoxication brought on by alcohol or drugs or a combination of both."