Trust foster care decision on eight-year-old girl 'unlawful'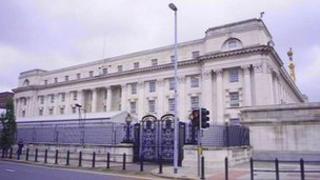 A decision to put a girl into foster care over her mother's drinking was unlawful, a High Court judge has ruled.
He held that the Northern Health and Social Care Trust breached the human rights of both parent and child by acting without any consultation.
The trust took the eight-year-old girl from her mother's care in April 2013 amid concerns about alcohol misuse.
Lawyers for the family said the verdict would act as a safeguard for the rights of parents.
Mr Justice Treacy said: "It was neither necessary nor proportionate to by-pass the requirement to have genuine and effective consultation with all the parties concerned."
By the time the girl - referred to as X - had been taken from her mother, issues had been raised over the woman's drinking.
Natural justice
A plan was in place that involved her maintaining sobriety and having no drink or drugs in the family home.
But she was deemed to have breached it by taking alcohol while X was staying with her father, from whom the mother was separated.
Judicial review proceedings were issued against the trust's decision, claiming it was unlawful and in breach of natural justice.
The mother also argued that X's father should have been consulted as he had agreed the child should be placed with him if the mother became incapable of caring for her.
Ruling on the case, Mr Justice Treacy noted that at an initial Looked After Children (LAC) review meeting in April 2013 the trust described X as appearing healthy, active, confident, with a good school attendance and happy with her mother.
But the following day, after authorities received information about the mother drinking while X was staying with her father, a completely different tone emerged.
Abrupt removal
The mother was described as belligerent and irrational, with her situation said to be deteriorating rapidly.
No explanation nor evidence for these descriptions was evident in the meeting notes, according to the judge.
Based on this revised perception of the mother it had been decided that X needed to be urgently taken from her mother and placed in foster care without planning or preparation.
The judge held that there was no attempt to consider the effect of such an abrupt removal on the child's welfare.
For that reason the decision was found to be unlawful and in breach of X and her mother's Article 8 right to family life under European law.
Mr Justice Treacy said none of the mother, father, X or a guardian in the case were consulted.