CBI chief warns high energy costs 'a real danger to jobs'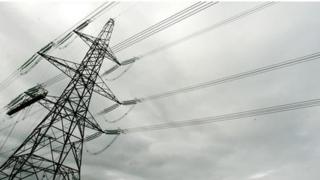 The chairman of the CBI in Northern Ireland has warned that high energy costs are creating a "real danger" to manufacturing jobs.
Large energy users in Northern Ireland have some of the highest costs in Europe.
Only Italian manufacturers face higher charges.
Colin Walsh said the high costs were also making it "virtually impossible" to attract projects like data centres as inward investments.
Speaking at the CBI's annual dinner he said Northern Ireland also faced a "very precarious supply situation" for electricity.
An undersea electricity interconnector to Scotland is currently working at reduced capacity, but is due to be repaired.
The supply situation will be exacerbated at the end of 2015 when part of the Ballylumford power plant in County Antrim will have to shut down to comply with EU pollution rules.
Balance
Mr Walsh said the onus was on the Stormont Executive to get the situation "sorted".
He added that "a succession of reviews and inquiries" had not addressed the high cost to users in manufacturing.
In response, a Department of Enterprise spokeswoman said the minister, Arlene Foster, was committed to making sure the energy sector works "in the best interests of all consumers".
She said this involved striking the right balance "between costs, investment and securing supplies", and that the details were set out in the executive's strategic energy framework.
She added that the department was not aware of any projects being lost as a result of energy pricing, and that "the minister's door is open to CBI to present the evidence for lost projects".
The statement added that it was not correct to describe electricity supply as "precarious" and that "work is already advanced to make sure power supplies are protected in short, medium and longer term".