Philip Strickland murder: Jimmy Seales and Stephen McCaughey sentenced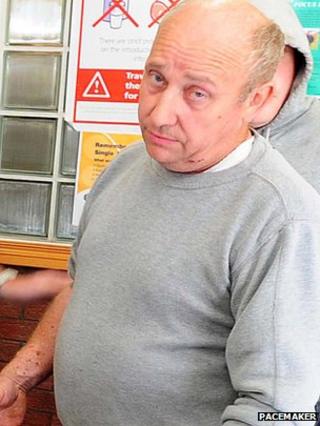 A wealthy pig farmer will serve at least 15 years in jail for the murder of a man in County Down two years ago.
Jimmy Seales was convicted of the murder of Philip Strickland in Comber.
The judge told Seales, of Ballykeel Road, Hillsborough: "You were the prime mover, director and controller of these wicked events."
His co-accused Stephen McCaughey, of Shackleton Walk in the West Winds Estate in Newtownards, will serve at least 10 years in prison.
Mr Strickland was killed with a shotgun in 2012.
Seales and McCaughey were both sentenced to life imprisonment. Seales will serve at least 15 years before he is considered for release, while McCaughey will serve at least 10 years.
The setting of the tariffs come a day after the sentencing of Seales' sons Ian and Jason Weir, of Derryboye Road and Raffery Road, near Killinchy.
A judge told Ian Weir he must serve four years of a life sentence, while Jason Weir will have to spend nine and a half years in jail.
During a lengthy trial, a jury heard how Mr Strickland was killed in Comber following a dispute with farmer Jimmy Seales, the father of the Weir brothers.
The pig farmer claimed the dispute began when he told a man to remove cannabis being grown in a shed he owned.
Seales was later stabbed and beaten with iron bars.
This was followed by Facebook comments and offensive graffiti about the farmer, for which he blamed Mr Strickland.
The dispute led to a meeting between Mr Strickland and Seales, his two sons and their friend, Stephen McCaughey, at a yard on Ballyglighorn Road on the outskirts of Comber, County Down.
Shortly after he arrived at the yard, Mr Strickland was shot in the leg.
He was then bundled into the boot of his car, which he bought the previous day.
The car was driven onto the nearby Ballydrain Road where he was shot in the face.