DUP MLA Jim Wells queries jail beauty salon treatments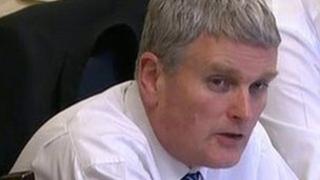 Women prisoners are getting "makeovers at the taxpayer's expense", a DUP assembly member has claimed.
He was speaking after Stormont's justice committee heard that beauty salon skills were being offered to help inmates find jobs in the outside world.
Prison Service head Sue McAllister said the training provided them with "marketable skills", as well as "building confidence and wellbeing".
Mr Wells questioned if it was right to allow them beauty treatments as well.
"I'm showing my age here but I think the public would react quite badly if taxpayers' money is being spent to help prisoners look like Twiggy - that's the only model I can think of," he told the committee.
Ms McAllister said: "We haven't invented this idea - we have harvested the idea from other jurisdictions where it genuinely provides women with marketable skills.
"We are not doing it because it's a nice thing to do."
She was responding to questions from assembly members about activities and employment opportunities for prisoners.
Mr Wells later said in a statement: "Women inmates should not leave prison looking better than they arrived and to paraphrase the slogan of a leading make-up company, 'they are not worth it'.
"I have tabled a question to Justice Minister David Ford asking him how much money is being wasted providing this totally unnecessary service."