RBS to face sanctions over IT meltdown in 2012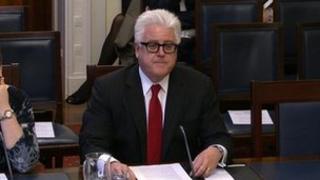 The head of Ulster Bank has told a Stormont committee that the financial regulator intends to sanction the bank's parent company RBS over a 2012 IT meltdown.
Thousands of customers were affected.
The Financial Conduct Authority (FCA) has been investigating the problem that locked many RBS, NatWest and Ulster Bank customers out of their accounts.
The FCA has the power to impose an unlimited fine.
Ulster Bank's Jim Brown told the enterprise committee that the regulator has completed its investigation.
He added that discussions were continuing between the bank and the FCA about the nature of the sanction.
He said RBS was committed to publishing the findings of its own investigation into the IT issue once the regulatory process was completed.
The meltdown was caused by a computer failure in the overnight processing of account information.
Even though payments had been made - such as a business paying wages to staff - this did not show up on account balances.
In turn, this meant many customers could not make payments themselves, such as paying rent to their landlord.
The failure effectively caused a traffic jam in the system. It created a huge backlog in updating account balances which was not solved for some time.
Ulster Bank customers were among the worst affected, and their accounts were not back to normal for weeks.
The problems also had a knock-on effect for customers of other banks because payments they were expecting had not come through from RBS accounts.
The banking group apologised a number of times to the 16m customers affected and set up a system of emergency cash payments and late branch openings.
Ulster Bank paid out more than £18m in compensation to 300,000 people affected in Northern Ireland.