Colin Bell suicide: Daniel Barclay gets suspended sentence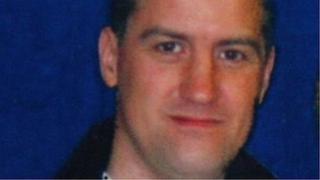 A former prison officer has been given a suspended sentence after a prisoner whom he was supposed to be monitoring on suicide watch took his own life.
Daniel Barclay, a former night custody officer at Maghaberry Prison, was sentenced to 15 months, suspended for three years.
Prisoner Colin Bell ended his life while in "a safe cell" supposedly being watched on CCTV by Barclay.
But the court heard that Barclay had watched TV and tried to sleep on shift.
In court on Thursday, the judge said there were failures involving others at the jail. He also said there were systemic failures.
The judge took into consideration Barclay's genuine remorse and the level of stress felt by both Barclay and his family over the past six years,
Last week the court had heard that Barclay was making food, watching TV and trying to sleep while a prisoner he was meant to be watching made repeated attempts to kill himself.
Barclay even used a mattress as a makeshift bed on the floor of the CCTV suite in Maghaberry Prison, Craigavon Crown Court was told.
Colin Bell did eventually take his own life. His body lay slumped against his cell door for more than half an hour before being discovered by another officer.
Barclay, a father of three, pleaded guilty to misconduct in public office.
It was revealed in court that he also held down a day job in McDonald's.
He was responsible for monitoring the CCTV images from a so-called "safer" cell used to house vulnerable prisoners.
Paranoia
On 31 July 2008, the cell contained 34-year-old Bell, who was serving a minimum of eight years for manslaughter.
The court heard how, in April of 2008, Bell had started to show signs of paranoia, began to self-harm and tried to kill himself.
As a result, he was transferred to a "safer" cell that should have been monitored 24 hours a day.
Barclay's job was to watch the CCTV from this cell.
A prosecuting lawyer said investigators had cross-referenced images from various CCTV cameras in the prison and had been able to prove that Barclay had moved to the end of the suite furthest away from the cameras, put his feet up, watched TV and tried to sleep.
A defence lawyer argued that the incident came against a backdrop of "serious systemic failure" and said his client was "filled with genuine remorse and sorrow".
In a statement, the Northern Ireland Prison Service said it "deeply regrets the tragic death of Mr Bell in 2008.
"It is acknowledged that he did not receive the appropriate level of care but substantial improvements have been made since that time, both in procedures and training of staff."