Martin McGuinness: Banquet attendance about reconciliation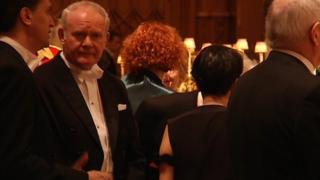 Sinn Féin's Martin McGuinness has said his attendance at a state banquet hosted by the Queen on Tuesday night had nothing to do with electoral politics, but was about "conflict resolution and reconciliation".
Speaking to the BBC programme The View, he said his presence at Windsor Castle was an attempt to show people "how serious Sinn Féin take conflict resolution and reconciliation".
The banquet Mr McGuinness attended was hosted by the Queen in honour of Irish President Michael Higgins as part of the first ever Irish state visit to the UK.
The visit by President Higgins and his wife Sabina comes three years after an historic visit by the Queen to the Republic of Ireland.
In 2011, Sinn Féin refused to take part in events surrounding the visit, but in 2012 Mr McGuinness met the Queen in Belfast.
'Wrong side of history'
According to Mark Hennessy of the Irish Times, Sinn Féin's decision three years ago to boycott royal events in the Republic backfired.
He told the BBC: "Sinn Féin called it wrong in 2011".
He added that three years ago "they were on the wrong side of history according to the majority of people on the Republic".
Historian and journalist Ruth Dudley Edwards agreed.
'Don't diss the Queen'
She told The View that back in 2011 Sinn Féin made a "terrible error".
She added that Sinn Féin was determined this time not to repeat their mistake and said "they have learnt that you don't diss the Queen".
Mr McGuinness said his party was not ready to meet the Queen back in 2011, but much had changed since then and he praised the work of the Queen, particularly her comments about reconciliation.
Dublin-based journalist Eamon Delaney said he thought the appearance of Mr McGuinness at Windsor Castle was a genuine attempt at peace-building.
Although he believed Sinn Féin would be looking at "electoral polls and political opinion in the South".
The presence of Sinn Féin MPs at Westminster to hear President Higgins speak and the decision of Mr McGuinness to go to Windsor Castle, has led one political commentator to suggest Sinn Féin might end its policy of abstentionism.
Ruth Dudley Edwards said "Sinn Féin have a way of doing what suits them".
She told the BBC that since Mr McGuinness "toasts the Queen in white tie and tails, what's stopping him going to Westminster?"
Mr McGuinness, who is no longer an MP, insisted that party policy would remain in place.
He told The View: "I am not an advocate of taking our seats in Westminster.
"That is not the next big step."
The View will be broadcast on BBC One Northern Ireland at 22:35 BST.
You can follow Stephen Walker on Twitter at @StepWalkTV