David Neill murder: Kevin and Daniel McCartney sentenced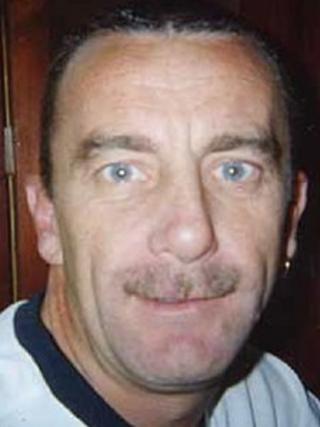 Two brothers have been sentenced for killing a 45-year-old man at his home in County Armagh.
David Neill was stabbed to death at a house in Craigavon's Parkmore estate during the early hours of Sunday, 16 September 2012.
Kevin McCartney, 29, must serve at least nine years after he admitted Mr Neill's murder.
His 21-year-old brother Daniel was sentenced to seven years after he admitted manslaughter.
His sentence comprises three and a half years in custody and the same period on licence.
Mr Neill died from a stab wound to his back which penetrated an artery and caused massive bleeding.
The court heard that there had been a history of friction between Mr Neill and the McCartney brothers arising from Daniel McCartney's relationship with Mr Neill's daughter.
Daniel McCartney blamed her parents after the relationship broke up.
In the early hours of 16 September the McCartney brothers and a third man went to Mr Neill's house, with Kevin McCartney armed with a knife.
Daniel McCartney had been warned by police that he had been threatened by a man who was in Mr Neill's house earlier that evening.
A scuffle ensued between Mr Neill and Daniel McCartney, before Mr Neill collapsed due to the stab wound.
Although Daniel McCartney had originally been suspected of the stabbing, his brother Kevin later admitted he had been responsible.