John O'Dowd to present ESA alternatives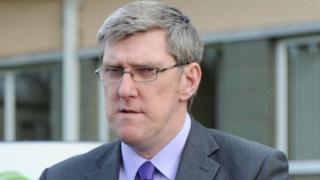 The education minister is planning to go to the executive with alternatives to the long awaited Education and Skills Authority (ESA).
John O'Dowd seems to be resigned to the fact he has not won the political agreement needed to create ESA.
It would replace Northern Ireland's five education boards with a single authority.
The body was first proposed in 2007 and has since missed a series of deadlines.
Mr O'Dowd told the education committee he now has to concentrate on a solution that will comply with the reduction of local councils from 26 to 11.
That has to be in place by next April, so the minister is under pressure to either change the geographical spread of the current five boards, or to reduce them to three or even one board.
However, a single board would not be the same as the planned ESA and would simply be a larger version of the current boards, with the same powers.
The ESA implementation team has been working towards making savings in the education system and streamlining the organisation but its budget has now halved to just over £1m a year.
Because it was part of the Executive's programme for government, it would have to approve any move to scrap the idea.