Cars and homes damaged by fire in Londonderry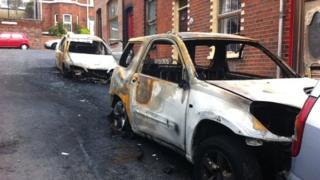 Three cars have been destroyed and homes damaged in a fire at Moat Street in Londonderry.
The Fire and Rescue Service said that people could have been killed or seriously injured in the fire early on Thursday.
Fifteen people had to leave several homes which were damaged in the blaze.
The area has been cordoned off by police, but it has not been evacuated. The fire is being treated as deliberate.
Police have said a motive has not yet been established.
A resident who did not want to be identified, said her car and her father's car were badly damaged.
She said she woke up to the sound of a crackling noise at about 04:45 BST.
'Flames spread'
"The car was completely engulfed in flames and you could smell the smoke throughout the house.
"I woke the rest of the house and phoned the fire brigade... . We made sure everybody was out the back because we didn't know if the house would be set on fire as well."
The woman said flames from the burning vehicle spread to other cars.
"I was terrified, it's the scariest thing that's ever happened (to me)," she said.
The Fire Service's Barry McDowell said the investigation had now been handed over to the PSNI.
Mr McDowell said the firefighters made a fantastic effort to prevent the fire spreading.
"The cars were approximately four or five feet away from the front of the houses," he said.
"I'm sure that because of their quick action, they prevented not only more damage to the houses, but prevented serious injuries and deaths."