Criminal Justice chief Brendan McGuigan praises 'positive steps'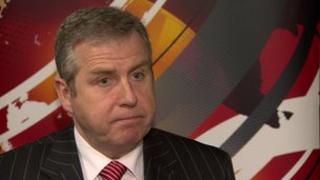 The experience of prisoners being transported to and from court has been transformed, a new report suggests.
Criminal Justice inspectors have praised the Prisoner Escort and Court Custody Service in Northern Ireland.
Chief Inspector Brendan McGuigan said the service had taken positive stops and its progress was commendable.
He said the experience for prisoners going into custody had changed dramatically.
"In 2010, it was a very negative picture. We struggled to see how cost effective this service would be," he said.
"In the last four years, as a result of good leadership, management, trade unions and staff working together, they substantially reduced sickness, reduced assaults - prisoner on prisoner and prisoner on staff assaults and transformed the experience for prisoners as they enter the prison system.
Rather than routinely handcuffing them and putting them into the cellular accommodation, they do a risk assessment now," he said.
"These were the most substantial results in the last 10 years, where the experience of prisoners has actually changed".