Rory Trainor: Newry man laundered cash for drug dealers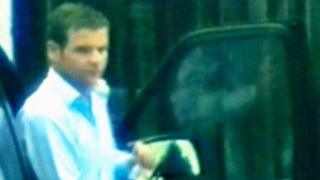 Perched as it was on the side of the old Dublin Road, partially hidden by a rather unkempt hedge, the Best Rate Bureau de Change would barely have attracted a glance from the casual passer-by.
But in less than two and a half years, this tiny, two-roomed, flat-roofed office had more than £63m squeezed through it, much of which came from drug dealers.
In a shady world where only cash counted, the dealers needed someone to turn their euros into sterling or vice versa and to do so without asking any questions.
Rory Trainor was that man and he was only too happy to accommodate them.
Much of Trainor's business was done away from the office - in car parks across the country. Like the one in west Belfast shown on covert footage taken by investigators from HMRC.
It shows a man called Ciaran Parker waiting in a blue Audi. Parker is a convicted drug dealer. In 2009, he was part of a gang arrested close to Belfast's Ikea store.
They had with them cannabis worth £700,000. They also had £5,000 in cash hidden under a spare wheel.
In the HMRC video, we see a second vehicle arrive; a shiny black Range Rover driven by Rory Trainor.
Parker gets out and walks to the passenger window of Trainor's vehicle where he is handed a plastic bag filled with cash. He takes it, walks off and drives away. The whole transaction takes perhaps 20 seconds.
'Quite frankly amazing'
Derek Dubery was HMRC's senior investigator on the operation against Trainor, an operation entitled Gripman.
"It is, quite frankly, amazing," he said. "And I'm sure Mr Trainor isn't alone in operating this kind of business in Northern Ireland.
"It's people like Mr Trainor that make it possible for criminals to act with impunity in Northern Ireland.
"If you or I went to a bank and tried to change a significant amount of money, they would demand identity documents. The beauty of the service that Mr Trainor was offering is that criminals could act in a way that they could never be identified.
"As you've seen yourself from the surveillance footage, if you were not there to witness that transaction, that 20 seconds in time, that's the only record of that transaction having taken place. No paper records, so ideal for the criminals and it was very important that Mr Trainor could offer that service to them."
Mr Dubery recalls another occasion when Trainor met a known criminal close to Hillsborough.
"Our surveillance team witnessed the handover of a package at a public house beside the A1 dual carriageway. A short time later, the PSNI stopped the other vehicle involved," he said.
"The equivalent of £40,000 in euros was found in that vehicle and Mr Trainor's fingerprints were on the wrapping of that cash and one of the things that Mr Trainor has pleaded guilty to today is knowing that that transaction involved the proceeds of crime.
"It just goes to show how much money is generated by the drugs trade and other criminality within Northern Ireland and how important it is for the criminals that there is someone like Mr Trainor to deal with that money."
Cash in beer cooler
HMRC officers also raided Trainor's home as part of operation Gripman.
In two visits, they found cash in excess of £150,000 hidden in a floor safe and a beer cooler.
A video shot by their officers shows bundle after bundle of £20 notes being lifted from the safe. For Rory Trainor, this was a profitable business that funded an enviable lifestyle.
On Wednesday, though, he became the subject of a serious crime prevention order.
In an unusual move, the judge, Mr Justice Finnegan, deferred sentencing for a full year to see how Trainor complies with the conditions imposed by that order.
He is due back in court at the end of March 2015.