Pitfalls and pratfalls in the doorstep search for votes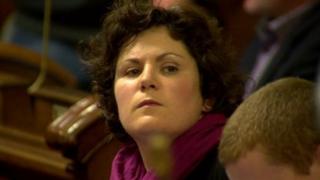 Have you heard the one about the election canvasser who accidentally destroyed a voter's garden pond - and then pretended he was from another party.
Or the MLA who insulted a constituent by asking if the woman by his side was his daughter - it was his wife.
Or even the politician who had to move his election poster because it was keeping a baby awake in the house beside it.
They don't usually deserve your sympathy, but it's clear, that for some at least, votes can be very hard-earned.
And with two elections in May - the European parliament and local councils - there's surely more pain to come.
For some doorsteps aren't the problem, it's the walls you have to go through, or over, to get to them.
Take the sad case of Alex Kane. These days he avoids doorsteps and works as a political commentator instead.
But he used to knock doors on behalf of the Ulster Unionist party and suffered for being too energetic.
"The first time I jumped over a wall and landed in something that had just been cemented so left footprints all over the place," he says.
"Six weeks later I jumped over another wall into somebody's garden pond and ended up doing a lot of damage to the structures around it as well.
"But oddly enough I'd picked up an Alliance leaflet from two houses up and I told the person 'I'm just canvassing' and handed them the Alliance party leaflet. It's 30 years ago, but I still feel a bit guilty about that."
His confession is better late then never.
The DUP MLA Jim Wells did not get off as lightly the night he called with someone who was unlikely to ever give him his vote.
"I knocked a door and a gentleman, as soon as he saw me, leapt down the steps and went for my throat," he recalls.
"His wife was standing at the door on the telephone and on the way past she grabbed him by the collar.
"So there was him spitting and cursing and swearing at me and her, still on the phone, holding him to stop him getting at me and I reversing frantically down the steps. That door is engraved on my heart forever. It will never be knocked again."
The Belfast SDLP councillor Claire Hanna had a similar experience, which thankfully didn't become violent.
"One resident told me in fairly robust language that our candidate wouldn't be getting his vote so I politely made my excuses and as I was walking down the drive and was writing it on my register to make sure I wouldn't go back I walked up to the next door, knocked it, and was horrified to see the same man," she says.
"It turned out he had a semi-circle driveway with two entrances so I didn't hang around to hear his views a second time."
However, you sometimes meet interesting people according to Sinn Féin's Barry McElduff who recalls one night canvassing in Omagh.
"First house I went to there was a kind of mid-week party going on. I thought it was a strange time for a party so I spoke to everybody there," he says.
"The next house I went to believe it or not (was owned by) the great country singer Brian Coll and he sang for me Pretty Litttle Girl From Omagh.
"At the third and final house the man kept exotic pets, lizards and snakes, and he was keen to show me his collection so there you go - I had three interesting houses in a row."
But he also remembers another man, who he puts in the category marked "awkward customer".
"I said you're that twisted; you're that contrary; and you're that negative that I would much prefer it if you didn't vote for me. Really, I'm calling to your house and I'm asking you not to vote for me," he says.
"And then he took a step back from me and said 'By God I'll vote for you then.' So he was that contrary that when I asked him not to vote for me he says 'I will vote for you'."
A woman came into NI21 MLA John McCallister's office with a delicate problem. One of his election posters was outside her son's bedroom window and was keeping him awake.
"While I wasn't deluding myself that I was any Brad Pitt I hadn't just realised I caused so much consternation," he says.
It wasn't babies that were Jim Wells' problem.
"I've had dogs set upon me," he says. "Near Rathfriland, I very clearly remember that night the dogs were let loose, and I was over the hedge as fast as I could go.
"My agent was standing laughing his head off...he thought it was very funny. I didn't actually think it was very funny.
"I've also made the fundamental mistake of going to a door and a gentleman comes to the door and I've asked him if the lady beside him is his daughter and it turned out it was his wife."
Alex Kane says some houses are more welcoming than others.
"I was canvassing on the Lisburn Road and didn't realise it was a house of ill-repute until the lady invited me in and made me some very strange offers."
Naturally he made his excuses and left.