Game of Thrones: Fifth series set for Northern Ireland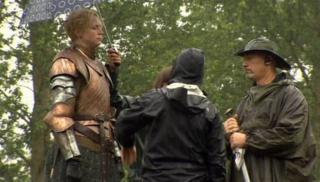 Part of the the fifth series of medieval drama Game of Thrones will be filmed in Northern Ireland, it has been confirmed.
The first and deputy first ministers have welcomed the announcement by HBO's Michael Lombardo.
They said securing the programme would generate more than £20m a year for the Northern Ireland economy.
Much of the previous four series have been filmed on location in NI and at Titanic Studios in Belfast.
Series five will receive funding from NI Screen, supported by Invest NI and part funded by the European Regional Development Fund.
"Continued investment by major production companies such as HBO ensures that Northern Ireland's creative industries continue to lead the way on the world stage," Mr Robinson said.
"This week's season four premiere of Game of Thrones was watched by a record 6.6 million viewers, making it one of HBO's most watched programmes.
"This has both direct and indirect benefits as Northern Ireland continues to establish itself as a prime tourist destination and investment location."
Deputy First Minister Martin McGuinness added: "The return of HBO to the north of Ireland to film the fifth series of the Game of Thrones is excellent news and will provide a £20m cash injection to the local economy, create job opportunities and keep our creative industry in the global spotlight.
"I look forward to seeing the breath-taking filming locations including the Glens of Antrim, Downhill beach and Tollymore forest beamed around the world."