On the Runs: Sir Hugh Orde rejects government pressure claims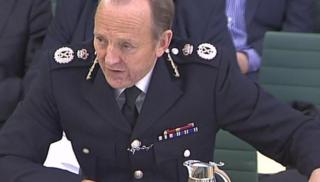 The former head of police in Northern Ireland has said that he never came under political pressure to release republican terrorist suspects.
Sir Hugh Orde rejected a retired detective chief superintendent's claims that Downing Street attempted to pervert the course of justice by asking for suspects to be released in 2007.
"At no time did Number 10 try to influence my decision-making. At no time did any secretary of state - and I had four of those - try to influence me," said Sir Hugh.
"And at no time did any official from the Northern Ireland Office ever try to influence my operational decision-making. And had they, I would have made it public immediately."
Sir Hugh - who was in post from 2002 to 2009 - was giving evidence to the Northern Ireland Affairs Committee, which is investigating the process for dealing with On the Runs, Irish republicans who had received letters stating that they were not wanted by police for paramilitary crimes committed before the 1998 Good Friday peace agreement.
The letters came to light in February when the trial of John Downey for the 1982 IRA Hyde Park bombing was halted because he had mistakenly received one of those letters.
'Basic failure'
Sir Hugh was responding to claims made at the committee last week by former Det Ch Supt Norman Baxter.
He told MPs on Wednesday that Mr Baxter had discovered that Mr Downey was still wanted by the Metropolitan Police over the bombing but had failed to inform the PSNI's assistant chief constable at the time.
"The view of Mr Baxter was that if he came into Northern Ireland, we would not have enough to arrest him and therefore he was not technically wanted by the PSNI," he said.
"Of course, Mr Baxter did checks that enabled him to understand he was still wanted by the Metropolitan Police in London, which is another part of the United Kingdom.
"So had that been known, Mr Downey would have been arrested in Northern Ireland. Mr Baxter did not share that information with Mr Sheridan - I think that is the basic failure."
He added: "It is beyond my understanding how communicating that information between professional police officers is, in any way, shape or form, perverting the course of justice.
"Equally, I am not persuaded that sharing it with the director of public prosecutions would be perverting the course of justice."
Sir Hugh said the PSNI's "very limited and restricted role" was to examine lists of named individuals supplied by the Northern Ireland Office and decide whether they were wanted for arrest.
Former Northern Ireland secretary of state Shaun Woodward is also due to appear before the committee on Wednesday.
Last week at the committee's first sitting, Mr Baxter accused Downing Street of attempting to pervert the course of justice in 2007.
Mr Baxter also claimed there was "a culture within the Northern Ireland Office to ensure that republicans were not prosecuted".
He also said the PSNI was scapegoated for the collapse of the Downey case.
During his evidence to the committee last Wednesday, Mr Baxter claimed Downing Street rang the chief constable's office in March 2007.
He said they had asked for the release of two republican suspects, and said it was "illegal and unconstitutional".