Arlene Foster hits back on 'imported' Harland and Wolff jobs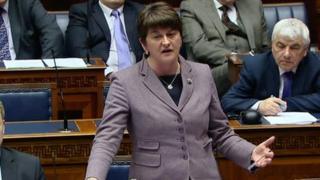 The enterprise minister has said she thought it was "wrong for us to say that we only want jobs in Northern Ireland for Northern Ireland people".
Arlene Foster was replying to an assembly question from David McNarry of UKIP about "imported labour jobs" at Harland and Wolff in east Belfast.
She said that of 600 temporary jobs at the shipyard, 200 were filled by European workers.
Her remarks follow a row over posters that appeared in parts of Belfast.
The posters claimed Northern Ireland people were being denied jobs while hundreds of overseas workers received higher wages.
UKIP said the posters reflected community frustration at more than 500 foreign workers being employed on an oil rig contract at Harland and Wolff.
However, the Alliance Party condemned them as racist.
Mrs Foster said she understood the contract was initially for 60 days but had been extended.
Figures she had showed that 200 workers were from Northern Ireland, 200 from Scotland and the north east of England, and 200 from other European countries.
The minister said the wider economy of Belfast had profited from the presence of the workers, particularly in the hospitality sector, and that she wanted people from other parts of the world to come to Northern Ireland in order to share their skills and experience.
Mrs Foster said there was a shortage of steelworkers and welders in Northern Ireland following the decline of the shipbuilding industry.
She added she would be happy to talk to the employment minister about developing workers' skills in that industrial sector.
In a statement, Harland and Wolff (H&W) said: "Of the 424 people current employed by H&W, including core, temporary and agency employees, 26 are non-UK nationals.
"Our projects are providing further local employment opportunities through H&W's supply chain and the service sector.
"In addition, employment is provided by our clients' international contractors."
The Police Service of Northern Ireland said it was "aware of the posters which have been reported to police as a hate crime incident".
A spokesperson added that police had conducted a review and determined that "no offences have been disclosed within the content of the posters".