Paralysed labourer Lester Cowan gets £2m damages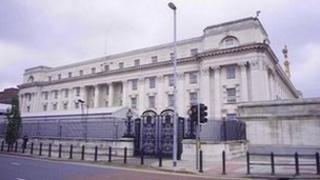 A labourer left paralysed and brain damaged after plunging down a storm tank is to receive £2m in damages.
The pay-out will be made to Lester Cowan to settle a lawsuit brought over the accident at a pumping station in Bangor, County Down.
The 57-year-old, from Lisburn, County Antrim, has no memory of the fall in June 2009.
His lawyers are arranging for all funds to be lodged in court to ensure that his future care is managed.
Contractors were working on the Northern Ireland Water-owned site at the time of the accident.
Not properly warned
Mr Cowan, who had been employed by another sub-contractor, sued J Graham Dromore Ltd for alleged negligence and breach of statutory duty.
Roof decking had been completed, with plywood sheeting used to cover holes until proper lids were fitted.
Although no-one saw him falling, the court heard Mr Cowan was found at the bottom of the storm tank.
He was described as a keen, conscientious and willing employee who was anxious to get on with his job.
Last week, a High Court judge ruled that Mr Cowan was in no way to blame for what happened to him.
Rejecting claims the labourer was guilty of any contributory negligence, the judge found he had not been properly warned about the dangers surrounding dangerous and defective decking with totally inadequate covering.
After his verdict, a further hearing was scheduled to determine the level of damages to be awarded, but Mr Cowan's solicitors were able to negotiate a settlement.
It was confirmed in court on Tuesday that Mr Cowan would receive a £2m settlement.