Alex Attwood: Sinn Féin pulled out of welfare reform deal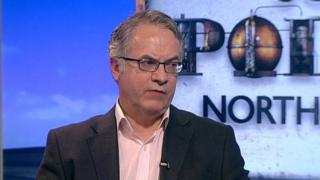 Sinn Féin agreed to a deal on bringing welfare reforms to Northern Ireland before Gerry Adams put a stop to it, a senior SDLP politician has claimed.
Alex Attwood told the BBC's Sunday Politics programme that Sinn Féin's Martin McGuinness had reached agreement with DUP leader Peter Robinson.
He said Sinn Féin President Gerry Adams "pulled the carpet from under Martin".
Sinn Féin has denied reaching agreement with the DUP and said Mr Attwood "knows nothing" about Sinn Féin's dealings.
'Negative influence'
Welfare reforms, some of which are already in place in Great Britain, have been causing tension within Northern Ireland's power-sharing executive.
Westminster passed the legislation in February 2013, but the Northern Ireland Executive has still not agreed the bill, and £5m a month penalty charges came into effect in January.
Last week, Northern Ireland First Minister Peter Robinson warned of potential "nuclear options" if the Stormont parties could not reach agreement.
He said options included handing devolved powers for social welfare back to Westminster.
Mr Robinson said his party had reached a deal with Sinn Féin on how to implement the reforms 11 months ago, but said Mr McGuinness had been unable to sell it to senior Sinn Féin members of the Irish parliament (Dáil) in Dublin.
The DUP leader also said Mr Adams, who left the assembly to become a member of the Dáil, had a very negative influence on the party's team in the Northern Ireland Executive.
Mr McGuinness said Mr Robinson's version of events was not true, adding that the DUP leader had "crossed the line" with his comments.
Speaking on Sunday Politics, Mr Attwood appeared to agree with Mr Robinson's assessment of the situation.
"There was a deal done between Robinson and McGuinness and Gerry Adams pulled the carpet from under Martin," the SDLP MLA said.
"The deal was pulled by Gerry Adams and I was told that by senior people in and around the Irish government and I think that's probably corroboration," he added.
'Deeply respected'
As a former social development minister at Stormont, Mr Attwood had responsibility for welfare reform from May 2010 to May 2011.
He was involved at the beginning of negotiations with Westminster when the Conservative/Liberal Democrat coalition first came to power.
However, Sinn Féin's John O'Dowd dismissed Mr Attwood's claim that his party had pulled out of a deal with the DUP and accused the former SDLP minister of "electioneering".
"Thankfully, Alex is not a member of Sinn Féin, so therefore he wouldn't be aware of any discussions going on within Sinn Féin, and thankfully none of the Irish government parties are members of Sinn Féin either," he said.
Mr O'Dowd said the parties in the Northern Ireland Assembly should present a "united front to the British government" to secure the best deal on welfare reform.
He added that Mr McGuinness's leadership was "deeply respected" within Sinn Féin.