Philip Strickland murder: Five people given suspended sentences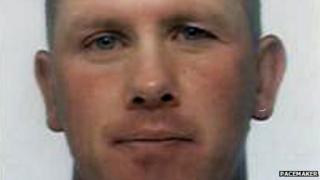 Five people who gave false information to police in the wake of the murder of Comber man Phillip Strickland have been given suspended sentences.
The 37-year-old farm labourer died after being shot in the face in January 2012.
Four of the accused were charged with perverting the course of justice, the fifth, was charged with withholding information.
Four people have been convicted of Mr Strickland's murder.
Appearing in Belfast Crown Court on Friday were Melissa Dickson, 22, from Derryboye Road, Killinchy; John Lawlor, 44, from Lysander Park, Newtownards; Stacey McCaughey, 23, from Blenheim Drive, Newtownards and North Lucas, 46, from Ballycreely Road, Comber - all admitted a charge of perverting the course of justice.
Lesley Weir, 22, from Lisbane Drive, Newtownards, pleaded guilty to withholding information.
Sentencing all five to 18 months in prison, which was suspended for two years, Mr Justice Weir told them: "I don't think that any of you can feel proud of what you have done in this case.
"This was a loathsome crime and you have all, in one way or another, played your part in attempting to conceal it for a period."
Four men have received mandatory life sentences for Mr Strickland's murder.
Stephen McCaughey, 26, of Shackleton Walk, Newtownards, Jimmy Seales, 56, Ballykeel Road, Hillsborough, and two of Mr Seales' sons, Ian and Jason Weir, Derryboye Road and Raffery Road, near Killinchy, County Down, are due to find out next week how long they will spend in prison before being considered for parole.
Mr Strickland, a farm labourer, was shot in the leg at a yard on the Ballyglighorn Road, near Comber, County Down, before being bundled into the boot of his own car and driven a short distance to the Ballydrain Road, where he was shot in the face at point blank range.