Man remanded over Ballyward hot water incident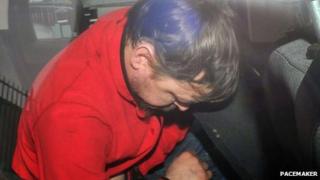 A County Down man, recently discharged from a psychiatric unit, has been remanded in custody after a three-year-old girl and two men had hot water from a kettle thrown over them.
Martin Kernaghan, 41, Drumlin Grange, Ballyward, was charged with intending to cause grievous bodily harm.
He was also charged with assault causing actual bodily harm on Thursday.
A defence solicitor asked the judge if the defendant could be put on suicide watch.
The solicitor said Mr Kernaghan had been released from a psychiatric unit against his wishes.
During the hearing at Newry Magistrates' Court on Saturday, the district judge said these concerns would be conveyed to the prison.