William 'Mo' Courtney convicted on threat to kill charge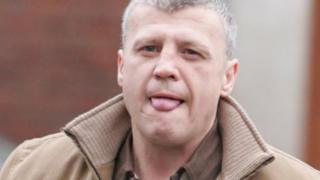 Leading loyalist William 'Mo' Courtney has been convicted of threatening to kill high-profile victims' campaigner Raymond McCord.
A second charge against him of harassing a murdered UDA leader's daughter as part of the same incident was dismissed.
Courtney, 50, of Fernhill Heights, Belfast, will be sentenced next month.
He had denied any encounter with Mr McCord and Tracey Coulter in Belfast last year.
Belfast Magistrates' Court heard the confrontation took place at a traffic junction in the Peters Hill area of the city in December.
Mr McCord, an outspoken critic of loyalist terror groupings since the paramilitary murder of his son Raymond Jnr, had been travelling in a car with Ms Coulter.
It was claimed that as their vehicle stopped Courtney walked past and gestured at Ms Coulter, whose father Jackie was killed during a loyalist feud in 2000.
He was also alleged to have verbally abused her.
'Woman-beater'
The incident happened just weeks after Courtney was found guilty of head-butting Ms Coulter during a confrontation over drugs.
Mr McCord told the court he then got out of the car, accused the loyalist of being a woman-beater and asked if he would hit him.
According to Mr McCord's account Courtney replied that he would kill him.
Mr McCord continued: "He was shouting 'Come up the road', he went into a big rant, yelling."
Asked by a prosecutor what impact the incident had on him, he said the threat left him feeling frightened.
During cross-examination defence counsel put it to Mr McCord that he disliked Courtney.
Mr McCord responded: "I don't really have an opinion on him. The best way I can answer it is I wouldn't be fond of people who are paramilitaries."
At one stage in the hearing he challenged the barrister about his client.
"I know of Mo Courtney and I know what he's been involved in. How do you feel representing people like that?"
He told the court any fear was not based on the defendant himself.
Abusive call
"We are Belfast men. If it came to something in the street I wouldn't be worried about him as an individual," he said.
In his evidence, Courtney said he had not seen either Mr McCord or Ms Coulter on the day in question.
He claimed to have no problem with her and denied allegations that he made an abusive phone call to her months earlier.
The court heard details of a police statement in which he described having known Ms Coulter for around 20 years.
In it he added: "And see for about 19 and a half of them, she has hated my guts."
Courtney described allegations that he threatened to kill Mr McCord as "absolute rubbish".
The prosecution lawyer asked him: "Would you have a reputation in your community? Would you be a known figure?"
Dismissed charge
District Judge Fiona Bagnall interrupted the line of questioning before he could reply.
Courtney said: "I wasn't there. How plain can I be?"
Ruling on the case, the judge dismissed the harassment charge due to weaknesses around the alleged phone-call incident.
She said: "I'm satisfied beyond reasonable doubt with regard to the incident on 9 December and convict with regards to the threat to kill."
Courtney was released on continuing bail until he is sentenced.
A ban on him entering the lower Shankill area was lifted after police confirmed Ms Coulter has now moved out of the area.