James Smyth granted bail in UVF double murder case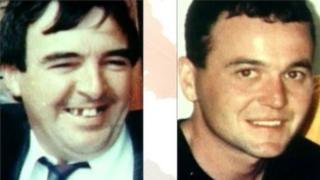 A man accused of the loyalist paramilitary murder of two Catholic men 20 years ago is to be released on bail, a High Court judge has ruled.
James Smyth, from Forthriver Link, Belfast, is charged with the murders of Gary Convie and Eamon Fox in the north of the city in May 1994.
Prosecutors opposed bail amid claims of a campaign of intimidation against the family of a key witness in the case.
But the court ruled Mr Smyth should be released when a cash surety is lodged.
The judge decided the 48-year-old should be granted bail after the court was told a co-accused is no longer in custody.
The defendant was detained by detectives investigating a campaign of murder and serious crime committed by the Ulster Volunteer Force (UVF).
'Gunman'
Mr Convie, 24, and Mr Fox, 44, were shot and killed as they sat eating lunch in a car at a North Queen Street building site.
Mr Smyth faces further charges of attempting to murder of a third man, Donal Laverty, in the same attack and possessing a Sten submachine gun and ammunition with intent to endanger life.
The court heard a lone gunman fired up to 15 shots into the victims' Volkswagen Polo from the direction of a nearby children's playground.
He is alleged to have then shouted "Up the UVF" before fleeing from the scene.
A prosecution barrister said: "Police believe they have evidence that this applicant was the gunman."
It was claimed that co-accused, Mark Campbell, drove the getaway van used to take him from the murder scene.
Mr Campbell, 42, of Canning Place, Belfast, was granted bail earlier this year on the same charges.
According to the prosecution, a distinction can be drawn between the two men's alleged roles.
'Significant witness'
But the judge said that if convicted, both men may only serve two years in prison under the terms of the Good Friday Agreement.
He added that this had nothing to do with the judiciary - a point he said the press and local politicians were "not so good at picking up".
Although the identity of a key prosecution witness in the case was not disclosed during the hearing, lawyers for Mr Smyth previously claimed information has been supplied by Gary Haggarty.
He is understood to be living at a secret location outside Northern Ireland.
"There's an ongoing campaign of intimidation against the family members of this significant witness," the prosecution barrister added.
However, the judge held that Mr Smyth should be granted bail on condition that his daughter lodges a £2,000 cash surety.
The accused must obey a curfew, wear an electronic tag and report to police four times a week.
Mr Smyth was further banned from contacting any prosecution witnesses or their family, his co-accused, or any loyalist paramilitaries.