Car smoking ban: Campaign for NI to protect children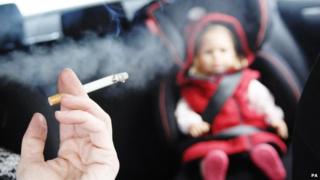 A Northern Ireland charity has urged politicians to act quickly and impose a ban on smoking in cars when children are present.
Chest, Heart and Stroke said Northern Ireland (NICHS) was in danger of becoming left behind.
Neil Johnston, NICHS, said MPs had already backed legislation to introduce a ban in England and Wales.
Moves are also under way to implement a ban in both Scotland and in the Republic of Ireland, he said.
"We need to act now to ensure we are not left behind as the only part of these islands in which children are left exposed to tobacco smoke in vehicles," he said.
NICHS commissioned a survey by Millward Brown that was carried out in March.
The charity said the results suggested that four out of five people in Northern Ireland want the assembly to ban smoking in cars carrying children.
NICHS said the survey found 82% of those questioned were in favour of a ban, whilst 12% opposed the idea.
Mr Johnston said NICHS had written to assembly members asking for their support in the call for legislation to be introduced.
"We hope that the overwhelmingly majority of assembly members will recognise the strength of public opinion on this issue," he said.
"We have also asked all members to write personally to Edwin Poots (the health minister) outlining their support for this measure."