Fivemiletown Creamery shareholders meet to discuss firm's future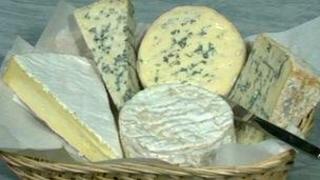 A shareholders' meeting has been held to discuss the future of Fivemiletown Creamery in County Tyrone.
There are fears that 50 workers at the independent specialist cheese-making factory could lose their jobs.
The factory, which has been running since 1898, is in negotiations with multi-national food company, Glanbia Co-Op.
A number of staff held a protest outside a local hotel as shareholders met bidders from Glanbia.
It is understood the creamery has been making large losses, leaving the business unsustainable.
A decision on the future of the business has yet to be announced.
The Ballylurgan Road premises is up for sale following a downturn caused by the loss of a major contract and difficulties in acquiring milk.
It is also understood the creamery has been making large losses over the past two years.
BBC NI reporter Martin Cassidy was in Fivemiletown on Thursday evening.
"Neither the farmer shareholders or Glanbia have commented, but it seems a deal between the two parties may not be far off and that would mean the closure of the Fivemiletown Creamery and the loss of around 50 jobs," he said.