NI welfare changes: Peter Robinson warns of 'nuclear options'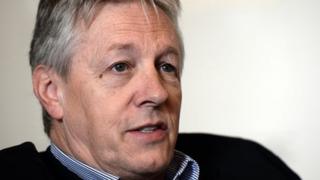 Northern Ireland's First Minister Peter Robinson has warned of potential "nuclear options" if agreement is not reached on welfare reform.
He said the present budget would have to be redrawn to cope with the costs the NI executive would have to pay.
Sinn Féin is currently refusing to support a welfare reform bill.
The bill, if implemented, would largely introduce measures already introduced elsewhere in the UK.
Mr Robinson also claimed that failure to introduce the changes would lead to as much as £1bn being lost from Stormont's block grant over the next five years.
He said that if Northern Ireland ended up with a separate welfare system, a further £1.5bn would have to be spent on new computer systems.
Writing on Twitter, Sinn Féin MLA Raymond McCartney said: "DUP told us that executive would go bankrupt if we didn't introduce water charges. Sinn Féin didn't and the executive didn't go bankrupt."
Sinn Féin's Alex Maskey said that Mr Robinson had chosen to provide "backing vocals to the scaremongers in his party rather than providing real leadership" on the issue of welfare reform.
"The energy of the first minister and the DUP should be concentrated on standing up to Tory cutbacks," he said.
"Instead, they are trying to explain away what is an unjustifiable assault on the working poor, the disabled and the unemployed."
He said the DUP had "decided to fight the European and local council elections on an anti-welfare state manifesto" adding that they "appear determined to replace the UUP as the Tory party's new partner in the north".
In recent days, senior DUP politicians have made increasingly dire forecasts about the impacts of delaying welfare reform.
Mr Robinson said that while welfare reform was "necessary" he would not have done many of the things introduced by the Westminster government.
Mr Robinson also gave further details of a deal he said had been agreed with Deputy First Minister Martin McGuinness.
He said they had agreed measures to mitigate the impact of the so-called "bedroom tax" which would have cost the executive £17m in its first year.
He added that an additional £40m contingency fund had also been agreed.
However, he repeated the DUP claim that Mr McGuinness and his close advisers had been unable to sell the deal to senior Sinn Féin colleagues.
He also said that any suggestion that a better deal could be negotiated with Westminster was an attempt "to fool the public".
Mr Robinson also spoke of the DUP's relationship with Sinn Féin saying it had "got much worse since Sinn Féin increased its representation in the south".
"It's the Dáil team that drives it now," said Mr Robinson.
The DUP leader also spoke of the need to "recast" the Stormont budget with "new priorities".
The current budget, which was passed in 2010, runs until March 2015.
Mr Robinson said some unspecified Stormont departments "could do with less".