Visteon workers: Deal agreed on pensions compensation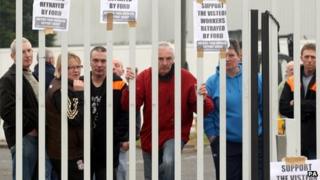 A deal has been reached to offer compensation to former Visteon workers who saw the value of their pensions slashed when the car parts firm went bust in 2009.
Visteon employed around 1,200 people at four factories across the UK.
The union Unite said it had concluded an agreement with Ford, which formerly owned Visteon.
The workers were employed at sites in Belfast, Enfield in north London, Basildon, Essex, and Swansea.
After the firm went into administration workers staged protests and legal challenges to get enhanced redundancy terms.
However, the value of some workers' pensions fell by around 40% and legal action was started against Ford.
'Constructive discussions'
Unite said it had concluded an agreement with Ford and is understood that around 1,200 ex-workers will be covered by the settlement.
Unite said in a statement: "Unite has concluded an agreement with Ford to make a settlement offer to eligible ex-Visteon employees who filed legal claims in connection with reductions in their pensions resulting from Visteon UK being put into administration in 2009.
"The settlement would avoid further expense for participants in the case and will settle the legal claims that these individuals have made against Ford.
"Unite and Ford have been involved in lengthy but constructive discussions to reach a position where a settlement has been offered."
News of the settlement emerged as former Visteon employees and campaigners marched through London to mark the fifth anniversary of the company's demise.
The settlement will only cover the time served by ex-employees at Ford, not once they were transferred over to Visteon.
'Right thing'
Paul Lewis, a member of Visteon Pension Action Group (VPAG), said: "It's not necessarily what everyone wants. It's regrettable it doesn't cover the Visteon service, but Ford don't consider that's something they're liable for."
Stephen Metcalfe, the Conservative MP for South Basildon and East Thurrock, has been heavily involved in the campaign to reach a settlement.
He said: "Ford has agreed to do the right thing and settle the claim. The good news is that Ford is at the table and have agreed the terms of a settlement, not just the principle.
"The [VPAG] steering group have accepted the terms, and I understand that everyone will get something, which may not have happened with the court case."
Prime Minister David Cameron congratulated those involved in securing the deal, including a cross-party group of MPs and Unite.
During Prime Minister's Questions, Mr Cameron said: "I wholeheartedly agree with you, this is a good development for pensioners and all those who have played a role and I think there are MPs on all sides of the House who have been involved with this and I think they are to be credited for the work they have done with Ford to make sure we get this justice."