Tyrone manufacturer: Telestack sold to US company for £22m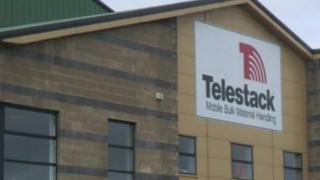 The County Tyrone manufacturing company Telestack has been sold to a Tennessee-based firm for $36m (£22m).
The buyer is Astec Industries, a Nasdaq-listed firm, which has its headquarters in Chattanooga.
Telestack, which is based in Omagh, makes material-handling products like mobile conveyer belts that are used in mining and quarrying.
It began operations in 1999 and was bought by its management team, Malachy Gribben and Adrian McCutcheon, in 2008.
In 2013, it had a turnover of £16.3m, delivering a pre-tax profit of £2.6m.
Astec, which operates in similar markets, had a turnover of almost $1bn (£600.5m) in 2013.
Benjamin G Brock, chief executive of Astec, said that buying Telestack would provide the firm with "a broader product line" in addition to material-handling at ports around the globe.
In October 2013, Telestack announced the creation of 40 jobs as part of a £3.1m expansion.